1. Kismet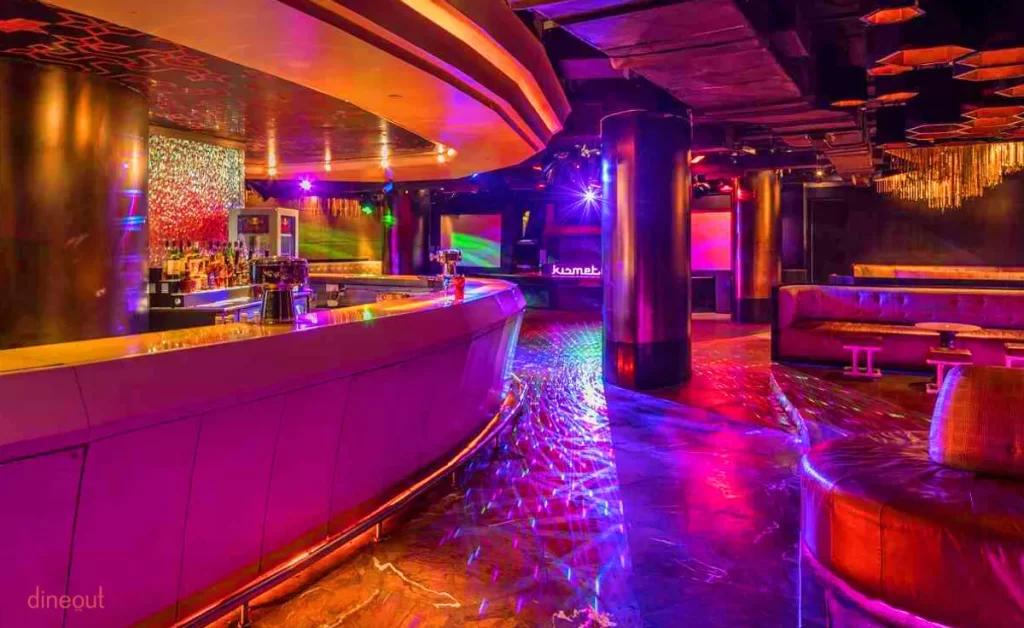 Kismet is one of the famous night clubs in hydrabad that rules the hearts many of peoples,visitors. Their peppy music will encourage you to dance until the late hours of the night. their dim lighting and the classy ambience set the perfect mood to unwind yourself at kismet.the cocktails are excellent and they have a good selection of beer and whiskey.
Address: 1st Floor,The Park Hotel,22,Raj Bhavan Road,Somajiguda,Hydrabad,Telangana 500082
Timings: 8:00 PM to 11:45 PM
Highlights: Serves Alcohol, Seating available
Cuisines: Finger food
Must-have: Nachos
Cost for two (with alcohol): Rs. 3000/-
2. 10 downing street
10 Downing Street is one of the best party places in Hyderabad. The inviting food and bar menu is crowd puller. The vibrant ambience,happy hours,live music and well-stocked bar ensures that you have a gala time at 10 downing street. if you want to have a memorable time with your friend,coluges. Then you must have to visit 10 Downing Street for a Karaoke Night and a Ladies Night & Themed parties. The delicious food and exciting drinks served here will surely leave you wanting for more. The antique artwork on walls, wooden, fruniture, comfortable sofas, cosy interiors is great for an evening of relaxation and unwinding.
Address: Tycoon,Lifestyle building,10-12,Ground Floor,My Home,Kundanbagh colony,Begumpet,Hyderabad,Telengana 50001
Timings: 12:00 to 11:45 PM
Zomato Rating :4.0/5
Cost for two(with alcohol): Rs. 2000/-
3. Zero40 brewing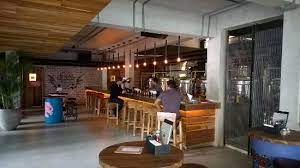 If you are looking for some exquisite craft beer in Hyderabad, then zero40 brewing is one of the best places in the city. From craft beers to mouth-watering food and impeccable service, this Brewpub has a lot to offer.
Address:271/A,Road Number 10,Venkatagiri,Jubilee Hills,Hydrabad,Telegana 500033
Timings:12:00 PM to 12:00 AM
Cost for two(with alcohol): Rs. 2500/-
4. MOB- belgian beer house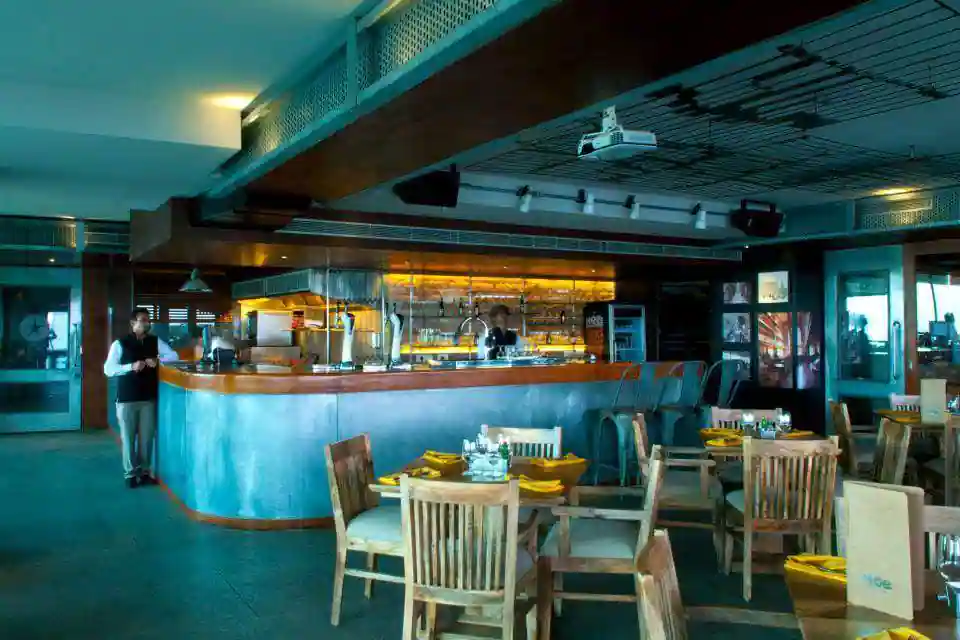 MOB– Belgian Beer House is one of the few bars in the city that has withstood the test of time and has become a brand that is synonymous with craft beer in hyderabad. MOB is stands for Mad over Beer. The bar takes the craft of making beer in another level.If you are a connoisseur of beer and cocktails, then this bar is for you.The beer are tested and served with perfections.The rustic decor with wooden furniture and recycled metals casts a stylish charm and makes it an amazing bar to hang out with friends you gorge on some delicious European,indian or oriental dishes along with some of the finest quality of Belgian Beer.
Address:2nd Floor,Aryans,Near Apollo Hospital,Road 92,Flim Nagar, Hyderabad
Timings:12:00 PM to 12:00 AM
Zomato Rating :4.1/5
Cost for two(with alcohol): Rs. 2600/-
5. Prost Brew Pub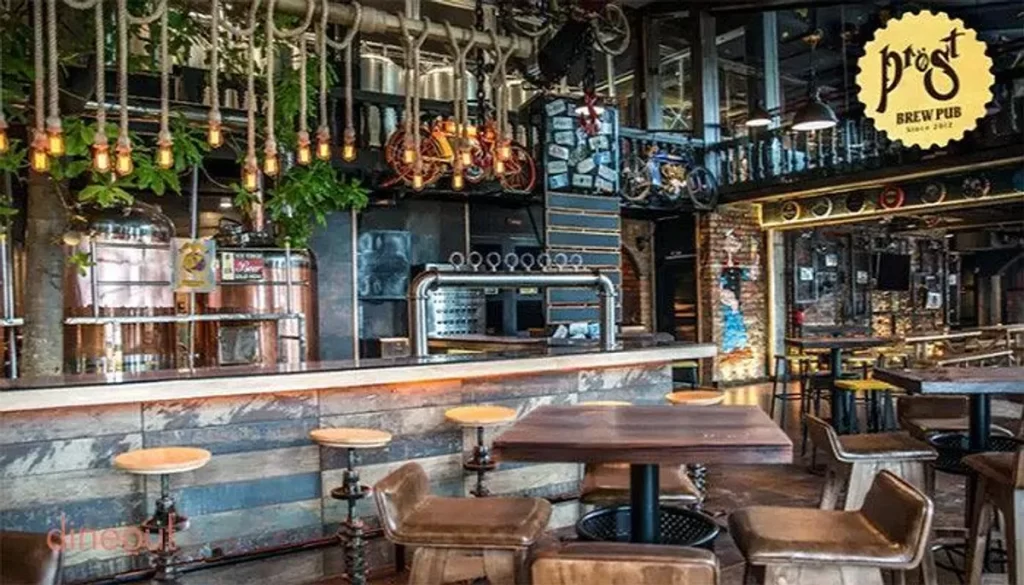 Hyderabad's very own brewery that makes its own beer and serves it with styles is The prost brew pub.The chic interiors,craft beer and ambience of the place will surely win your heart.if you want to spend some fun time with your friends,then you can enjoy Live Screening of matches at this pub in Jubilee Hills. they brew exotic and unique beers in some crowed pleasures flavors like mango,chocolate,lemon,blueberries,wheat and rice among a lot of many other exciting ones .The ambiance is cool,the music is pleasing and the food is nice.The place is spread across 3 floors,each with uniqie ambiance to give your perfect night .
Address: Rina Mandal Road,Masthan Nagar,CBI Colony,Jubilee Hills,Hyderabad,Telengana 500033
Timings: 12:00 PM to 11:59 PM
Highlights: Screens Live Matches, Seating available,wifi Available
Cuisines: Italian,Continental,Chinese
Must-have: Potato skins
Cost for two (with alcohol): Rs. 2500/-
6. Aqua- The Park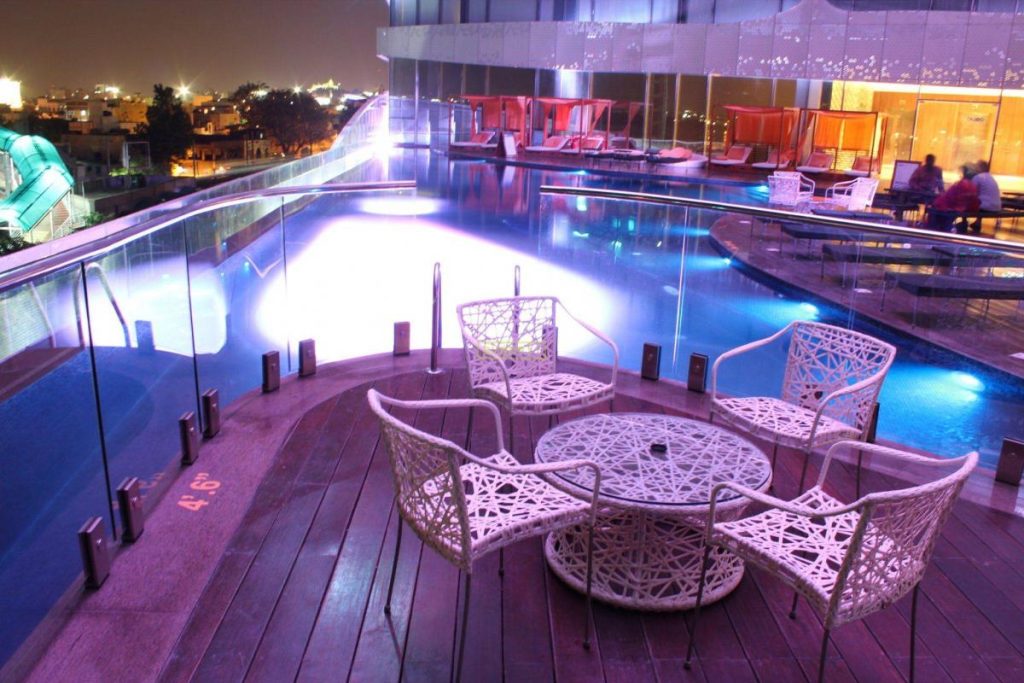 Aqua is for all the water that want to party at a poolside, under the stars with some pleasant music.It has a large infinity pool,luxurious seating,and excellent decor. the bar serves a wide range of wines,spirites,cocktails and mocktails.If you love to dance,this is one of the best pubs in Hyderabad with a Dance floor where you can Dance your heart away!The extensive bar menu, fabulous food,infinity pool,live sports sceening,ans luxe cabanas will set your mod just right.
Address: The Park Hotel,22,Raj Bhavan Road,Somajiguda,Hyderabad,Telengana
Timings: 12:00 PM to 11:59 PM
Zomato Rating :3.9/5
Highlights: Live Music, Seating available, Open Air Seating
Cuisines: Finger Food,Fast Food
Must-have: Nachos,Chicken Wings,Pasta,Fish
Cost for two (with alcohol): Rs. 2500/-
7. Over The Moon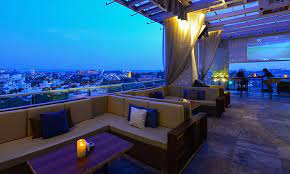 Over The Moon has an ambiance and a view of the entire city that is to die for. one of the few places in Jubilee Hills that will delight you with its rooftop ambience and friendly service.On avery lovely nights when the weather is a little chilly and you have your drink in your hand,delicious food in your plate,outlooking the city,nothing feels more serene.The cool party vibes,electrifying music and a scrumptious food menu that serves everythings from the Mediterranean to indian classics is by far one of the best pubs in Hyderabad.
Address: 8th Floor,Daspalla Hotel,Road No.37,Jubilee Hills,besides Bajaj Electronics,Hyderabad,Telengana 500081
Timings: 12:00 PM to 11:59 PM
Zomato Rating :3.8/5
Highlights: Serves Alcohol, Screens Live Matches, Seating available, Open Air Seating, Wifi Available
Cuisines: Italian,Continental,North Indian
Must-have: Chicken Wings
Cost for two (with alcohol) : Rs. 2500/-