HolidayLandmark is an Adventure Travel Group based out nowhere but on World of Web. It was founded by group of sober trekkers and travelers who have urban settlements but wander in search of wilderness in forest. HolidayLandmark provide an online platform for travelers to find a buddy travelers in order to google adventures and stimulate wild instincts to bing and those who wants to go back into the wild.
Anyone from anywhere can become trip/events organizer or plan their destiny on this portal and share with the world to find missing travelers who is still under urban border and looking out for some leader who can lead them back into the forest.
Anyone can become HolidayLandmarker create a new line of Holiday Landmark which is untouched and unexplored. BUT
Nuts who want to read official language, for them – HolidayLandmark will be a leading travelers group community around the world.
HolidayLandmark is a online service which allows users to browse, create, and promote local events and its 100% free. Anyone can become a Events organizers and publishers at this platform. HolidayLandmark platforms to everything from the latest in live sports events, to music festivals and concerts, standup comedy and open mic shows, food and shopping festivals, theatre, workshops.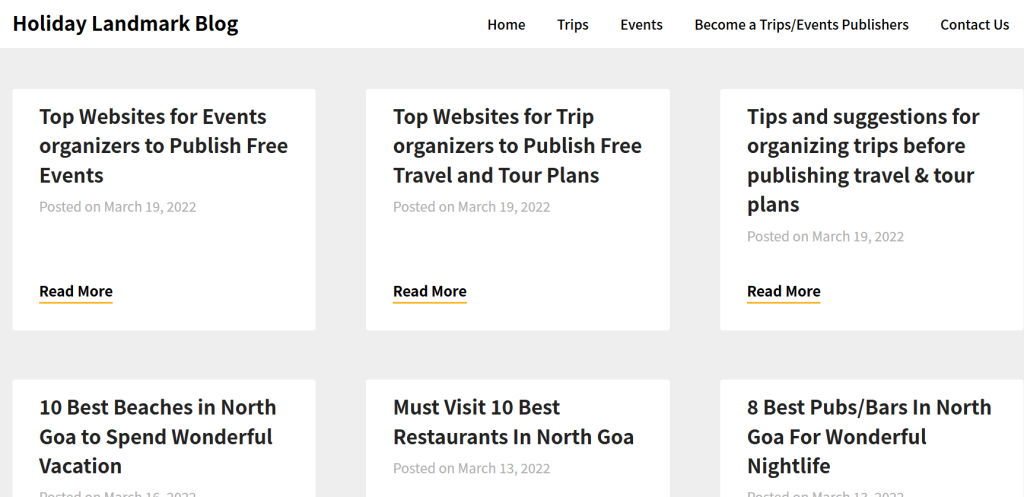 Blogger is an American online content management system which enables multi-user blogs with time-stamped entries. Pyra Labs developed it before being acquired by Google in 2003. Google hosts the blogs, which can be accessed through a subdomain of blogspot.com.
WordPress is a free and open-source content management system written in PHP and paired with a MySQL or MariaDB database. Features include a plugin architecture and a template system, referred to within WordPress as Themes.
Medium is an American online publishing platform developed by Evan Williams and launched in August 2012. It is owned by A Medium Corporation.
Quora is an American social question-and-answer website based in Mountain View, California. It was founded on June 25, 2009, and made available to the public on June 21, 2010. Users can collaborate by editing questions and commenting on answers that have been submitted by other users.