What are the types of air cooler?
Personal Coolers
The personal coolers are less spacious and work very efficiently in smaller spaces. One can keep them in the cabins and rooms for winning over the unbearable heat of the summers.
Tower Coolers
These coolers are the slimmer version of air coolers suitable for places with space crunch. The tower coolers offered by Voltas are sleek and elegant in design which help them cool compact spaces with panache. They come with honeycomb cooling pads, smart humidity controller, empty tank alarm and have a feather touch panel. Depending on your requirement, you can purchase tower coolers in water storage capacity between 25 and 50 liters.
Window Coolers
As the name suggests, Window Coolers are the ones that are installed in a window. These are quite similar to window ACs; they don't occupy much room space given to their installation. These coolers cost slightly higher than personal and tower air coolers, and need higher maintenance. Window air coolers consume less energy and provide efficient cooling.
Desert Coolers
Desert air coolers are suitable for places where humidity is low and the temperature is high. These coolers also work on the principle of evaporating heat from water and pushing cool air. This is very good for City like Delhi, Hyderabad, Pune.Intended for bigger areas, Desert Coolers are the bigger air coolers with the water storage capacity of about 40 to 60 liters. These air coolers are suitable to use outdoors as well. The desert coolers offer efficient performance in dry weather conditions.
Comparison between all types of Air Cooler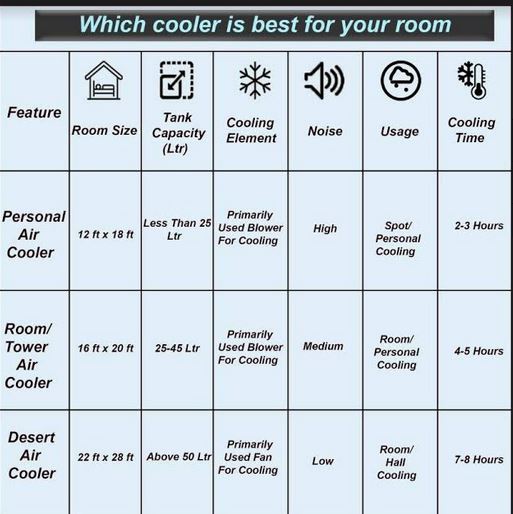 Which air cooler is best for home?
Desert Coolers considered to be best air cooler for the home.
Which is better air cooler or AC?
An air conditioner circulates the internal air of the room over and over again, whereas an air cooler pulls fresh air from outside and then cools it down. Because of the way it operates, an air cooler offers better quality of air for your room.
Which cooler is best plastic or iron?
House with carpet area upto 800 sft can be easily chilled with a bigger desert cooler. Both plastic body and steel body desert coolers are available in the market. Invariably steel body coolers are more efficient than the plastic body coolers as they are fitted with comparatively bigger cooling pads.
What are the top 5 coolers and The best coolers in 2021