HolidayLandmark is an Adventure Travel Group based out nowhere but on World of Web. It was founded by group of sober trekkers and travelers who have urban settlements but wander in search of wilderness in forest. HolidayLandmark provide an online platform for travelers to find a buddy travelers in order to google adventures and stimulate wild instincts to bing and those who wants to go back into the wild. Anyone from anywhere can become trip/events organizer or plan their destiny on this portal and share with the world to find missing travelers who is still under urban border and looking out for some leader who can lead them back into the forest. Anyone can become HolidayLandmarker create a new line of Holiday Landmark which is untouched and unexplored. BUT Nuts who want to read official language, for them – HolidayLandmark will be a leading travelers group community around the world.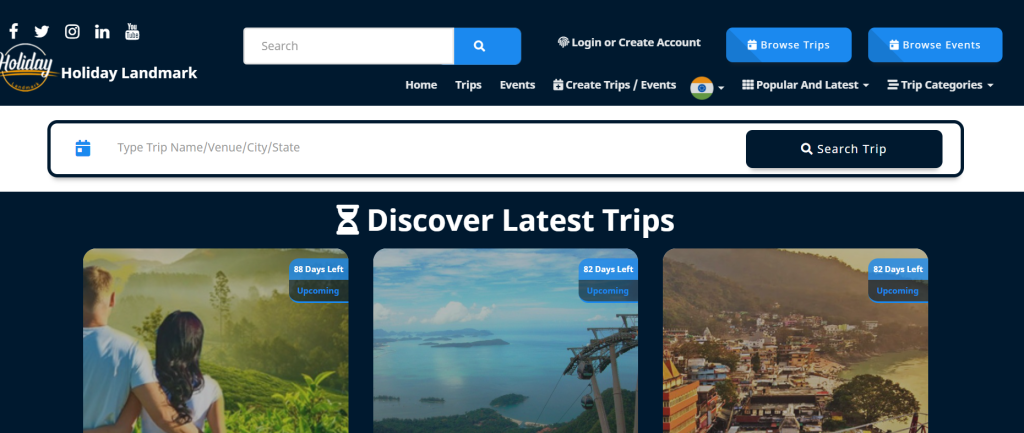 thrillophilia
Thrillophilia.com is one such travel platform that claims to take care of all experiences that are involved in travelling.
Booking.com
Booking.com is a Dutch online travel agency for lodging reservations & other travel products, and a subsidiary of Booking Holdings. It is headquartered in Amsterdam. The website has over 28 million listings. The site is available in 43 languages.
Expedia
Expedia Group, Inc. is an American online travel shopping company for consumer and small business travel. Its websites, which are primarily travel fare aggregators and travel metasearch engines, include Expedia.com, Vrbo, Hotels.com, Hotwire.com, Orbitz, Travelocity, trivago and CarRentals.com
Agoda
Agoda.com or just Agoda is a Singaporean online travel agency and metasearch engine for hotels, vacation rentals, flights, and airport transfer. It is owned by Agoda Company Pte. Ltd., headquartered in Singapore, and it is currently a subsidiary of Booking Holdings.
TripAdvisor
Tripadvisor, Inc. is an American online travel company that operates a website and mobile app with user-generated content and a comparison shopping website. It also offers online hotel reservations and bookings for transportation, lodging, travel experiences, and restaurants.
airbnb
Airbnb, Inc. is an American company that operates an online marketplace for lodging, primarily homestays for vacation rentals, and tourism activities. Based in San Francisco, California, the platform is accessible via website and mobile app
MakeMyTrip
MakeMyTrip is an Indian online travel company founded in 2000. Headquartered in Gurugram, Haryana, the company provides online travel services including airline tickets, domestic and international holiday packages, hotel reservations, rail, and bus tickets
Yatra
Yatra.com is an Indian online travel agency and travel search engine. It is based in Gurugram, Haryana. It was founded by Dhruv Shringi, Manish Amin and Sabina Chopra in August 2006.
Thomas cook
Thomas Cook, (born November 22, 1808, Melbourne, Derbyshire, England—died July 18, 1892, Leicester, Leicestershire), English innovator of the conducted tour and founder of Thomas Cook and Son, a worldwide travel agency. Cook can be said to have invented modern tourism.