| | |
| --- | --- |
| 1.1 | Charminar |
| 1.2 | Hard Rock Cafe |
| 1.3 | Necklace Road |
| 1.4 | Moula Ali Hill |
| 1.5 | Golkonda Fort |
| 1.6 | Shamshabad Go Karting |
| 1.7 | Begum Bazaar |
| 1.8 | Hussain Sagar Lake |
| 1.9 | Cream Stone |
| 1.10 | Pirate Brew |
1.Charminar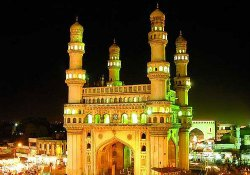 Address: Charminar Rd, Char Kaman, Ghansi Bazaar, Hyderabad, Telangana 500002
Timings: 9:30 am to 5:30 pm
Entry Fee: Rs 5 (For Indians); Rs 100 (For foreigners)
Architectural Styles: Islamic architecture, Indo-Islamic architecture
Charminar was built by Sultan Mohammed Quli Qutb Shah in 1591. It is said that this square shaped structure with four pillars and intricate carvings was built in honour of his wife, Bhagmati. However, the actual reason behind building Charminar is still not clear.It is also said that it was built in the memory of Prophet Muhammed's son in law who lost his life at the battle of Karbala as its design is in the shape of Shiya Tazias.
The architectural design of Charminar is inspired from the Shia "tazias". These Tazias were built in the memory of Hussain, who was the son in law of Prophet Muhhamed and had lost his life in the battle of Karbala.
The Charminar ( lit. 'four minarets') is a mosque and monument located in Hyderabad, Telangana, India. Constructed in 1591, the landmark is a symbol of …
Minaret height: 48.7 metres (160 ft)
2.Hard Rock Cafe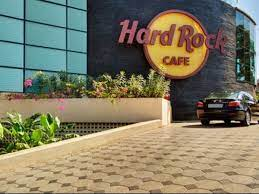 Address: Road Number 1,GVK One,Banjara Hills Hyderabad,Telangana 500034
Opening Hours
Mon-Thu, Sun:12:30pm – 11:30pm
Fri-Sat:12noon – 12:30am
Happy Hours
4 PM to 8 PM , Starting at 110
People Say This Place Is Known For
Rock Music, Band Playing, Live Performances, Music and Ambience, Best Pub, Awesome Music
Cost for two: Rs 2000
Besides authentic American cuisine, Hard Rock Cafe in Hyderabad is popular for its handcrafted cocktails. The vibrancy of the pub is accentuated by entertainment shows, that is hosted by the pub every night.
3. Necklace Road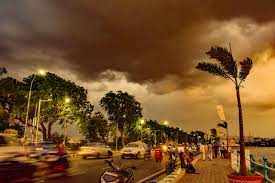 Necklace Road Hyderabad Address: Raj Nagar, Khairatabad, Hyderabad, Telangana, 500040, India
Entry Fee: Free
Mon-Sat 08:00 am – 10:30 pm
Necklace Road is a 3-km-long road that links three main parks of the city, including NTR Gardens, Lumbini Park and Sanjeevaiah Park. Overlooking Hussain Sagar Lake, it got its name owing to its necklace-like shape. Popular for roadside stalls serving snacks tea, coffee and ice cream, the road is precisely where you should be at if you are looking for a tranquil place to relax at night.
4.Moula Ali Hill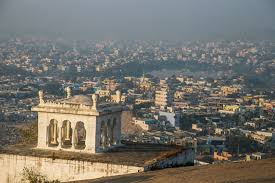 Location: Moula Ali
Timings: 5:30 am to 10 pm
Entry Fee: Free
PIN CODE: Moula Ali – 500040
District:Medchal-Malkajgiri District
Area Code: +9140
Court: X Metropolitan Magistrate Court Malkajgiriat Neredmet
Police Station: Malkajgiri PS
City Metropolitan Area:Secundrabad Hyderabad Metropolitan Development Authority
Moula-Ali commonly known as Moula Ali . It is a well-developed industrial and urban area in Malkajgiri Mandal, of the Medchal-Malkajgiri District, It is a part of Greater Hyderabad and also a part of Hyderabad Metropolitan Region of the Indian State of Telangana, This area is well connected with rail transportation through the Moula Ali Railway Station.
5.Golkonda Fort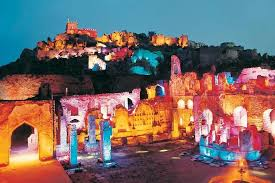 Address: Khair Complex, Ibrahim Bagh, Hyderabad, Telangana 500008
Timings: 6:30 pm (First show) and 7:45 pm (Second show)
Entry Fee: Rs 15 per person for Indians; 130 for Sound & Light Show
Golconda Fort, is a fortified citadel built by the Qutb Shahi dynasty as the capital of the Golconda Sultanate, located in Hyderabad, Telangana, India. Because of the vicinity of diamond mines, especially Kollur Mine, Golconda flourished as a trade centre of large diamonds, known as the Golconda Diamonds.
What is Golconda Fort famous for?
Golconda was the principal capital of the Qutub Shahi kings. The inner fort contains ruins of palaces, mosques and a hill top pavilion, which rises about 130 meters high and gives a bird's eye view of other buildings. Golconda fort is undoubtedly one of most magnificent fortress complexes in India.
6.Shamshabad Go Karting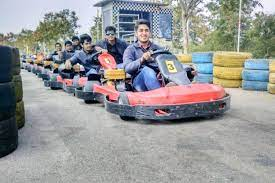 Address: Rajiv Gandhi International Airport, Near Parking Place,Shamshabad, Hyderabad, Telangana, 501218, India
Sun-Sat 00:01 am – 04:00 am 11:00 am – 12:00 am
Go-Karting has 600 meter Recreational Track and 900 meter Professional Kart Track for Championship Events.
Regular Packages
335 for Baby Cart (7 Laps)
420 for Baby Cart (9 Laps)
420 for Level 1 7Bhp Kart (9 Laps)
450 for Level 1 7Bhp Kart (10 Laps)
700 for Level 1 7Bhp Kart (15 Laps)
700 for Twin Cart (9 Laps)
Bulk Packages
12,500 for Bulk Booking – 30 Tickets
25,000 for Bulk Booking – 60 Tickets
Exclusive Packages
15,500 for 1 Hour Exclusive Booking
27,500 for 2 Hours Exclusive Booking
55,000 for Half Day Exclusive Booking
1,10,000 for Full Day Exclusive Booking
 7.Begum Bazaar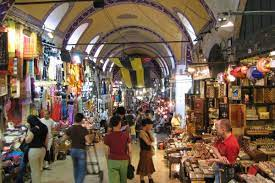 Location: Near Naya Pul bridge, Old City
Timings: 10 am to 11 pm (Sundays closed)
District:Hyderabad
Founded by: Syed Yaqoob Tawakali Ishaqui
Planning Agency:GHMC
One of the most popular markets of Hyderabad, Begum Bazaar is almost 15-year-old and is always crammed with people looking to strike a good bargain. From cosmetics to kitchen products, perfumes to clothes, and shoes to accessories, it offers a comprehensive range of items. We recommend you visit the market at night since vendors are eager to make the last sale and hence, are more agreeable to bargaining.
8.Hussain Sagar Lake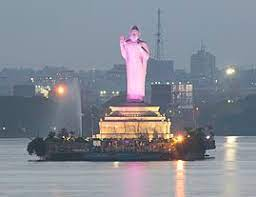 Area: 4.4 km²
Length: 3.2 km
Width: 2.8 km
Volume: 0.03 km³
Inflow Source:Musi River
Fish:Walking Catfish
Cities: Hyderabad,Secundrabad
Location: Near Hyderabad Centre
Timings: 8 am to 10:30 pm
Hussain Sagar was the main source of water supply to Hyderabad before Himayat Sagar and Osman Sagar were built on river Musi. The Buddha statue was chiseled out of a white granite rock, weighing 450 tons. It was carved by 200 sculptors for two years. The statue was transported to Hyderabad in November 1988.
9.Cream Stone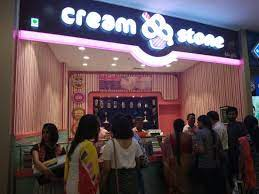 Location: GVK One Mall, Banjara Hills
Timings: 11 am to 2 am
Cost for two: Rs 350
Cream Stone was launched at Hyderabad in 2009, and it was so loved and enjoyed and grew so popular that its stores soon started to open across India.One of the most popular ice-cream parlours in Hyderabad, Cream Stone also makes for an excellent spot to hang out at night time. In a relaxed setting, it offers an array of fruit-flavoured ice cream. Besides, Cream Stone serves ice-cream cakes, sundaes and milkshakes, among others.
10.10 Downing Street – Begumpet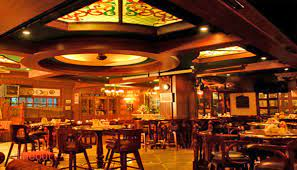 Address: Tycoon, COMPLEX-1, 10-12, Ground Floor, My Home, Kundanbagh Colony, Begumpet, Hyderabad, Telangana 500016
Service options: Dine-in · Takeaway · No-contact delivery
Opening Hours
Mon-Sun:12noon – 11:30pm
Known For
Karoke, Dj Nights And Lunch Combos
Cuisines
Finger Food,Continental,North Indian,Pizza
Popular Dishes
Chicken Dragon Rolls, Chicken Kung Pao, Shepherds Pie, Fry Prawns, Chicken Lasagna, Platters
People Say This Place Is Known For
Best Pub, Lunch Menu, Best Music, Happy Hour Menu, Awesome Music, Pocket Friendly Prices
Average Cost
₹1,800 for two people (approx.) with alcohol
Exclusive of applicable taxes and charges, if any
₹210 for a pint of beer (approx.)
How do we calculate cost for two?
Cash and Cards accepted